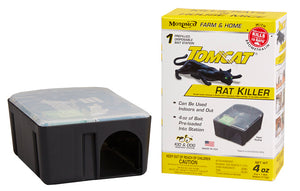 DESCRIPTION
WHERE TO USE
Place bait station where rodents travel, usually a 25 – 100 ft. area between their nest and food source
HOW TO USE
1. Place prefilled bait station, along walls, in corners, or other areas where signs of rats have been seen.
2. If multiple units are to be used, place bait stations 10 to 15 feet apart.
3. Maintain an uninterrupted supply of fresh bait for at least 15 days or until signs of rodent activity cease.
4. Wear gloves to properly dispose of station after use.
WHEN TO APPLY
DETECTION TIPS
Seeing a rat or finding rodent droppings is the #1 sign that you have a rodent issue.
Other signs of rodent activity:
Destruction to food or property (particularly gnaw marks)
Erratic pet behavior
Oily 'rub' marks on baseboards and walls
HOW OFTEN TO APPLY
If rat is not caught in 2-3 days, place bait station in alternate location where rat activity is suspected.
OVERVIEW TIPS
Provides Tomcat's highest level of station security
Resistant to tampering by children & dogs
See-thru lid for easy bait monitoring
Disposable bait station pre-loaded with 113 g bait block
Weather Resistant – for indoor and outdoor use