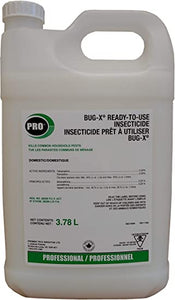 Description
Pro® Bug-X Ready-to-Use Insecticide is a water based residual spray for the control of ants, carpet beetles, cockroaches, crickets, earwigs, silverfish, sowbugs, spiders, brown dog ticks, fleas, flies and mosquitoes. The combination of tetramethrin and permethrin provides a quick knockdown with excellent residual control with low odour. It comes in a handy 3.78 litre size.
How To Use:
Apply as a coarse spray to infested surfaces until wet, moving the spray stream rapidly enough to prevent excessive wetting of surfaces and waste of material. Direct spray away from people, plants and pets.
For Indoor Use (ants, cockroaches, crickets, silverfish, spiders, saw-toothed grain beetles) spray into cracks, crevices, around baseboards and other places where insects hide. Apply behind and beneath cabinets, refrigerators, sinks, stoves and in and around waste containers. For ants, spray trails and places where ants enter premises. Repeat as needed. Do not spray foodstuffs or houseplants.
Make sure to remove pets and to cover fishbowls before spraying. Do not allow children to contact treated areas until surfaces are thoroughly dry.
For treatment of brown dog ticks spray the sleeping quarters of pets, around baseboards, window and doorframes wall cracks, and local areas of floors. Repeat the treatment as needed. Fresh bedding should be placed in animal quarters after spraying. Do not spray on animals.
For outdoor use (for treatment of ants, clover mites, crickets, earwigs, fleas, flies, gnats, hornets, millipedes, mosquitoes, sow bugs, brown dog ticks and wasps) spray infested areas thoroughly including outside surfaces of screens, doors, window frames, foundations, patios, or other places where insects may enter. For ants, spray hills and runways.
For control of wasps and hornets, spray nests at night. Repeat as necessary. Do not spray on vegetation.
SAFETY PRECAUTIONS
Keep out of the reach of children. Avoid contact with eyes, skin and clothing. Harmful if swallowed. May cause eye or skin irritation. Do not inhale vapors. Wash well after handling and before eating, drinking and smoking. Wash contaminated clothing with soap and hot water before reuse. Do not wear contaminated shoes.


Guarantee:
Tetramethrin...0.20%
Permethrin...0.20%