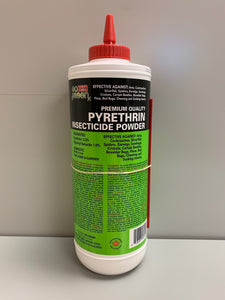 Doktor Doom Go Green premium quality Pyrethrin Insecticide Powder for home and garden is made from an African Flower (Chrysanthemum cinerariaefolium) and has a very low mammalian toxicity. It can be used indoors and outdoors. The easy squeeze bottle comes with a crack and crevice applicator tip that allows the dust to be applied in hard to reach spaces.
Read the label before using. The main purpose of this dust to use it where the dust will not be disturbed. Once the insect is coated in the dust, it will die shortly thereafter.
Effective against ants, cockroaches, silverfish, spiders, earwigs, sowbugs, crickets, certain beetles, boxelder bugs, fleas, bed bugs, fleas, and chewing and sucking insects.